Manage duplicate contact records by merging the secondary contact record into the primary contact record.
Duplicate contact records can lead to inefficiency for your team. More than one team member might be in touch with the same client, but your team might not know if they are communicating with the client from different places.
Also, if the contact records have different contact information, such as email addresses and the client can receive duplicate marketing emails, which can lead to frustration for the client.
Merging contacts creates efficiency and ensures your team is on the same page.
How to merge two contact records
Step 1: Open the contact record that will be kept as the primary contact.
Step 2: Click the "Actions" dropdown menu and select "Merge."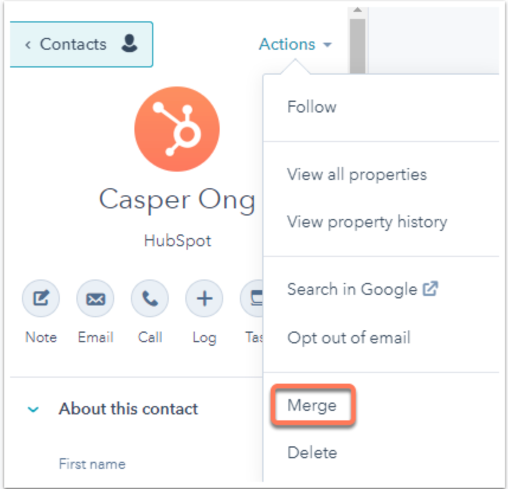 Step 3: Click the dropdown menu and search for the contact to merge into the primary record. Then, click "Merge." The secondary contact's email address will be added to the primary contact as a second email address. Timeline activity will be merged into the primary record, and the most recent value for each property will be used in the primary record.