To write a good LinkedIn post, craft an eye-catching headline, use plain text, break up your text into sentences and paragraphs, and consider emojis, writing a story, adding hashtags, or giving a call to action.
Growing your LinkedIn network requires posting regularly and writing posts people want to read. To write a good social media post for LinkedIn:
Craft an eye-catching headline
You only have two seconds to catch a user's attention on LinkedIn. The headline (opening statement or first sentence of your post) must grab the reader's eye and leave them wanting more. Use inspirational quotes, data, statistics, humor—whatever makes the most sense for your brand.
As an example, look at this LinkedIn post. The post starts with a headline that leaves the reader with something to think about.

Use plain text and emojis
LinkedIn rewards exposure to plain text, especially long-form, informational content that doesn't exceed 3000 characters.
To give your post some added personality, you can add emojis to break up your text. However, emojis are like exclamation points; there is such a thing as too much. Intentionally place your emojis.
As an example, look at this LinkedIn post. The emojis in this post are intentionally placed.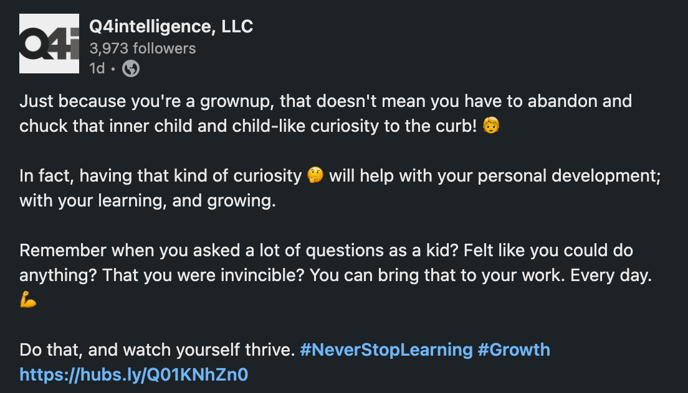 Break up your text
A wall of text on a LinkedIn post doesn't deliver a good user experience. Think of writing a LinkedIn post like a blog post and adding sentence breaks and paragraphs to break up the text and keep the reader's eye moving.
Write a story
Writing LinkedIn posts is a marketing tool, and marketing is about making human connections. When you share a personal or a business-based story with your audience, your brand becomes more relatable. A story has a problem, a solution, and a moral, so make sure your story-based post hits all those points.
As an example, look at this LinkedIn post. It talks about the story and process of writing a book and how that generally affects work things.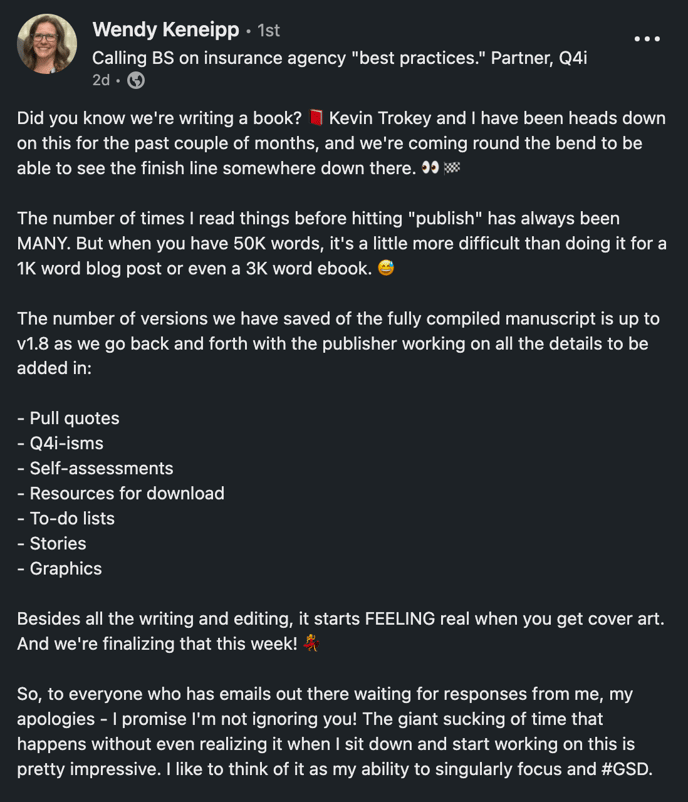 Add hashtags to your posts
Hashtags (#ThisIsAHashtag) are words or short phrases used in posts to reach audiences inside and outside your network. You can use hashtags branded to your business and related to your LinkedIn post, but a good rule of thumb is to add no more than five.
Give a call-to-action
At the end of your post, it may be appropriate to add a call-to-action for your readers and let them know what you want them to do with your post. For instance, do you want them to comment? Answer a question posed in your post? Share it with their audience? You can also consider @mentioning people in your network at the end of your post to encourage engagement.